To the Church facing the challenge of depression,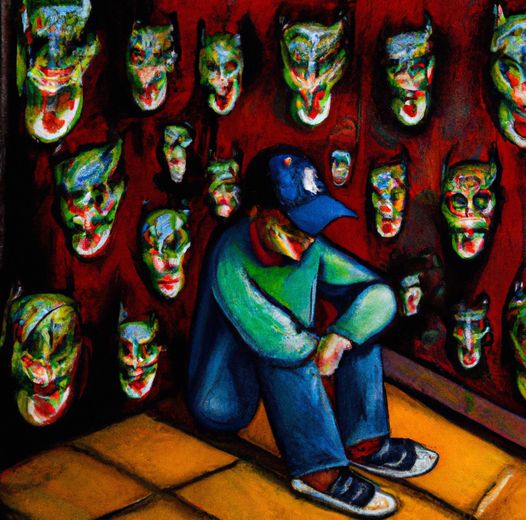 As a pastor, I've seen various challenges in people's lives, and what I've learned is that Jesus comprehends where you're at, even when the rest of the world may not. Whether it's a daunting medical diagnosis, a significant financial setback, an impending unattainable deadline, a broken relationship, or the widespread disruption caused by a global pandemic, the onslaught of negative news from the media, the scenarios are diverse, but the outcome remains constant: an overwhelming surge of stress, worry, and anxiety that can immobilize you at the moment when clear thinking and decisive action are most crucial. This is called anxiety or depression. It's as though you're trapped in a state of fear.
No matter the origin of your anxiety, the Bible provides followers of Jesus with straightforward yet profound guidance.
This is the central question to ask: "Where should I look in the Bible, in God's word?" We should pay attention to what God tells us in His word.
The Bible acknowledges that our journey with God isn't always smooth and bright. There are various causes of depression, like genetics, trauma, financial problems, and more. But, regardless of these complexities, the key question remains: "What has God said to me?" In other words, "What does the Scripture say?"
The Bible emphasizes that "faith comes from hearing, and hearing through the word of Christ" (Romans 10:17). Depression often weakens our faith and hope, and the Bible is clear that faith and hope won't be rekindled without hearing God's word.
However, the Scriptures do not guarantee an immediate emotional turnaround. Some people hear God's word and don't experience an emotional transformation. But, without the Scriptures, there is no hope for a Christ-centered change in our emotions.
Medication might help improve our emotional state, but it won't bring us closer to Jesus Christ without the word of God.
It's crucial to remember that Scripture is not meant to be recited as a mere ritual. Instead, it's about understanding that what Scripture conveys holds true in your life.
Here are five types of Bible passages to consider:
1. Look for Scriptures that talk about waiting for God. For instance, in Psalm 40, the psalmist patiently waits for the Lord, emphasizing that there are seasons of darkness and the assignment for believers in those seasons is to wait patiently for the Lord.
2. Read passages that show how to have courageous guilt. Micah 7:8-9 encourages us to be bold when dealing with God about our sins, knowing that we are justified through Christ's work.
3. Focus on passages that describe the work of Christ on the cross. These passages emphasize how Christ's sacrifice justifies us as sinners before a holy God. Romans 5:6-8 and Galatians 3:13 are examples of such texts.
4. Recite Scriptures of thanksgiving and praise, even if you don't feel them. Express your longing and belief that God deserves thanks and praise. This isn't hypocrisy but a genuine expression of your heart's desire.
5. Turn to texts that cry out to God for the restoration of life and joy. These passages are evidence that the seed of joy in God is still alive in your soul.
Even in the midst of darkness, if you can acknowledge God's supreme worth, confess it with your words, cry out for the restoration of joy, then the seed of joy in your soul is still alive. Trust in these five kinds of Scripture to provide patience and guide you through the season of darkness.
If you ever find yourself in need of support, reach out to a fellow believer in Christ for guidance. And if, by any chance, you encounter judgment or criticism from that fellow believer, consider seeking help elsewhere. It's unfortunate that some within the church hold the mistaken belief that depression is a result of battling demons, or that your struggle makes you less of a good Christian. These notions couldn't be further from the truth. Remember, even Jesus experienced anxiety before the cross, and He is the embodiment of perfection. You are not alone in your struggles, and your faith in Christ remains strong despite the challenges you face.
Matthew 26:36-46
Then Jesus *came with them to a place called Gethsemane, and *told His disciples, "Sit here while I go over there and pray." And He took Peter and the two sons of Zebedee with Him, and began to be grieved and distressed. Then He *said to them, "My soul is deeply grieved, to the point of death; remain here and keep watch with Me."
And He went a little beyond them, and fell on His face and prayed, saying, "My Father, if it is possible, let this cup pass from Me; yet not as I will, but as You will." And He *came to the disciples and *found them sleeping, and He *said to Peter, "So, you men could not keep watch with Me for one hour? Keep watching and praying, so that you do not come into temptation; the spirit is willing, but the flesh is weak."
He went away again a second time and prayed, saying, "My Father, if this cup cannot pass away unless I drink from it, Your will be done." Again He came and found them sleeping, for their eyes were heavy. And He left them again, and went away and prayed a third time, saying the same thing once more. Then He *came to the disciples and *said to them, "Are you still sleeping and resting? Behold, the hour is at hand and the Son of Man is being betrayed into the hands of sinners. Get up, let's go; behold, the one who is betraying Me is near!"
In Luke 22
Luke writes, He pulled away from them about a stone's throw, knelt down, and prayed, "Father, remove this cup from me. But please, not what I want. What do you want?" At once an angel from heaven was at his side, strengthening him. He prayed on all the harder. Sweat, wrung from him like drops of blood, poured off his face.
Hematidrosis is a rare but real medical condition where blood is found in a person's sweat. This happens because the sweat glands are surrounded by tiny blood vessels that can shrink and then expand to the point of breaking, leading to blood mixing with sweat. The cause of hematidrosis is extreme anguish. In the other accounts of the Bible, we can see the depth of Jesus' anguish: He says, "My soul is overwhelmed with sorrow to the point of death."
Jesus felt intense anguish and sorrow, which is understandable. Being God, He knew everything that was going to happen to Him. He knew in great detail the events that would follow after His betrayal by one of His own disciples. He knew He would undergo trials where all the witnesses would lie. He knew that those who had praised Him as the Messiah just days before would now be demanding His crucifixion. He knew He would be severely whipped before being crucified with metal spikes. He also knew about the prophetic words of Isaiah, which described how He would be beaten so badly that He would be disfigured beyond recognition.
Crucifixion was known to be one of the most painful and brutal methods of execution, reserved for the most despised individuals. It was so excruciating that a word, "excruciating," meaning "from the cross," was created to describe it. In all the events from His arrest in the garden to His declaration, "It is finished," there's only one moment when Jesus cried out loudly. This happened when He, as the sinless Savior, took on the sins of the world and exclaimed, "My God, my God, why have you forsaken me?" This moment of spiritual agony likely surpassed the intense physical pain that Jesus endured on our behalf.
If someone judges you for struggling with depression, they are inadvertently passing judgment on Christ, as if they were superior. What many people might not realize is that when surveyed, nearly 30% of pastors admit to grappling with depression. However, out of that 30%, only 5% openly acknowledge their depression due to fear of scrutiny and the pressure to appear flawless.
The truth is, every pastor, at some point, experiences depression, anxiety, or profound anguish. It's one of the most rewarding yet also one of the most challenging professions. Pastors confront sin daily, contend with constant temptations, and bear the weight of deep sadness.
So, if Jesus and your pastor can undergo periods of anxiety, depression, or anguish, then it's entirely acceptable for you not to feel isolated or inadequate.
It's important to remember that it's okay not to be okay. The strength to endure comes from God, and the saints will persevere. Regardless of where you are or how dire the situation may seem, God will provide you with the strength to carry on, even when things appear hopeless.
With Love,
House of Grace Church