Dear Church Family,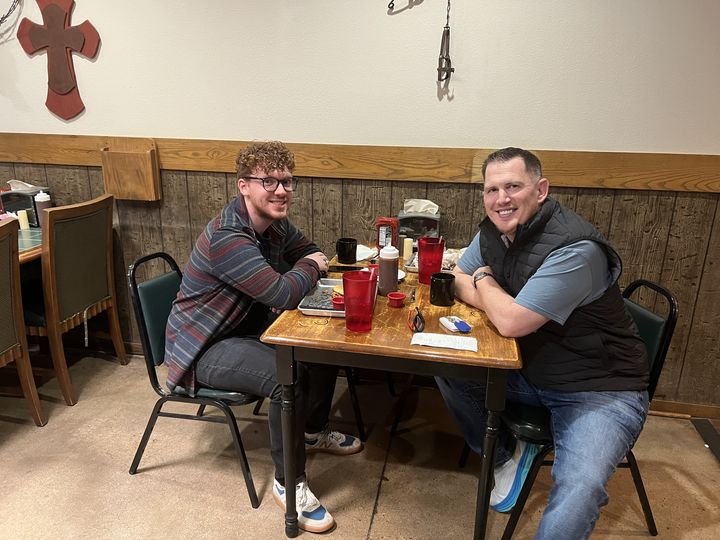 Today is a day to share some uplifting news. In an era marked by judgment in the church and a scarcity of grace for Christ's followers, let me introduce you to the remarkable journey of Eric Layton.
I first encountered Eric on a street corner during a vibrant First Friday event. There he was, passionately strumming his guitar, playing a classic Guns N Roses song. Yes, you read that right; I'm a Pastor, and I can appreciate the talents of Guns N Roses. But in that moment, I couldn't help but wonder what if this young man with long, curly red hair could channel his extraordinary talents for the Lord.
About a year later, I found myself at the Enid Brewery, another unexpected venue for a Pastor. I was there to meet a friend in need of hearing the gospel. While I was there, I witnessed the same young man, Eric, performing alongside a talented young lady named Lacie Tribble. But it wasn't just about the music; I had the privilege of meeting Eric's father, one of the most upright individuals I've ever encountered.
I ordered a beer that night, not necessarily to drink it, although I did take a sip, but to signal to the people in the bar that I was not there to judge or pressure anyone. I simply wanted to be a part of the social event taking place. That simple act sparked a conversation that turned into an enduring friendship, not only with Eric's father but with Eric himself.
Eric began attending our youth gatherings when I served as a youth pastor, and I extended an invitation for him to lead our worship group. To my delight, he accepted. What transpired next was nothing short of amazing. In just a few weeks, we transformed from a group of kids playing instruments into a band delivering worship experiences that rivaled contemporary church services throughout town.
This youth worship team was a light for Jesus, but Eric was not just content with that. He hungered for truth and was relentless in his pursuit of it. Today, I stand proud of the person he has become. Despite the opportunity to make a full-time living playing guitar for country and rock bands across the country (you might even have seen him with the Turnpike Troubadours, Kole Wetzel, Lance Roark, and Holly Beth), Eric remains a faithful follower of Christ while juggling the demands of the road and high school.
Eric continues to seek spiritual guidance from me, and I'm always ready to lend an ear when life presents its challenges. What's truly remarkable is that amidst all his success, he remains a man of unwavering principle. When he encountered questionable theology, he took the high road and did what he believed was right for the Lord.
But that's not all. Even with his busy schedule, Eric generously dedicates his time to playing for Life Church and the Mustang Life Church youth group. It's a testament to his character and his commitment to using his talents to serve a higher purpose.
I want to express my deep admiration for the remarkable journey the Lord has set Eric on, and continues to do, all for the advancement of His kingdom. Eric, keep up the outstanding work, and we eagerly anticipate witnessing your continued success and where God leads you in the future.
P.S. It's incredible to see how life unfolds. Lacie Tribble, the same young lady I mentioned earlier who shared the stage with Eric in a bar, is now the worship leader at the church I currently pastor, House of Grace Church. Two people who once started their musical journey in a bar are now using their remarkable talents to lead worship and inspire others in their faith journey. It's a testament to the transformative power of faith and the unexpected paths that can lead us to greater purpose and service for the Lord.
To your success,